About Audiokinetic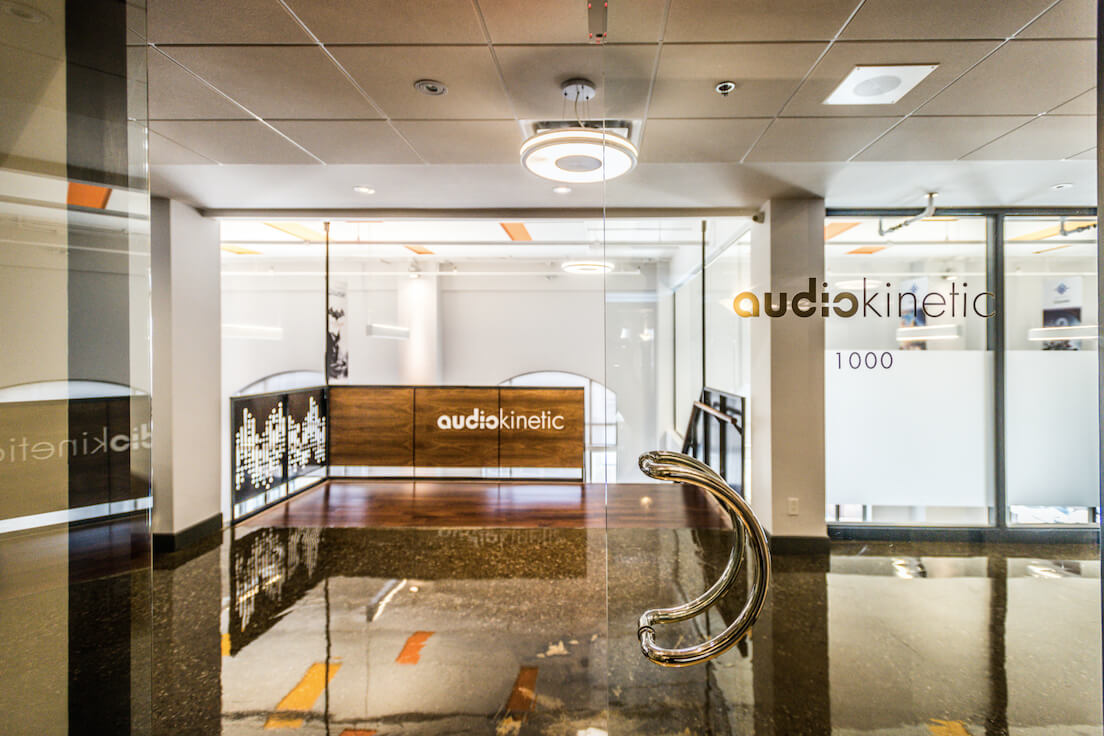 Built on pioneering technology and years of industry experience, Audiokinetic sets the standard in audio production for the interactive media, gaming, location based entertainment, and automotive industries, and is a trusted partner to the world's largest game developers, OEMs and professional audio companies.
As the global leading provider of cross-platform solutions, Audiokinetic offers an integrated approach to interactive audio production through cutting-edge, comprehensive interactive audio solutions and a revolutionary workflow. The company's middleware solutions, including the award-winning Wwise® and SoundSeed®, empower sound designers and audio programmers with a cost effective, comprehensive authoring tool and audio engine for creating innovative interactive experiences. With its ground-breaking technologies and unsurpassed services, Audiokinetic is committed to inspiring sound designers and audio programmers to create products which take the immersive experience of audio to new heights.
Our Story
2000
Audiokinetic was founded in 2000 by Martin H. Klein, President and CEO. Klein, working with a group of dedicated veterans and experts from the music, film, and gaming industries, set out to develop Wwise®, the integrated audio authoring middleware. Their goal was to help audio programmers and sound designers provide truly immersive gaming experiences.
2003
Audiokinetic opened up its first office space in 2003, in Montreal's old port.
2005
Audiokinetic's first GDC was in 2005! Three musketeers, Martin H. Klein, Simon Ashby and Jacques Deveau flew to San Francisco to meet a community of developers and introduce them to Wwise.
2006
By 2006, the first commercial version of Wwise and its revolutionary workflow was released. Microsoft Game Studios (MGS) was its first customer, and Shadowrun, developed for next-generation gaming platforms at the time was the first title to be shipped using Wwise. Developed for Microsoft Vista and Xbox 360, Shadowrun allowed live, cross-platform multiplayer gaming.
2007
In 2007, Audiokinetic launched its first Wwise Tour, in Tokyo and London. Today, the Wwise Tour is an anticipated industry event, featuring the best of game audio in the making by top tier developers from around the world, and has taken place in 14 cities.
2009
Audiokinetic, quickly building on its success, introduced its first internal plug-ins SoundSeed and Wwise Motion in 2009.
2010
2010 marked the 100th game shipped with Wwise. From indies to AAA games, audio professionals were turning to Wwise.
2011
In 2011, Audiokinetic reached its commercialisation stage, and became available for all new generation platforms. Audiokinetic established itself as the global leading provider of cross-platform interactive audio solutions, and Wwise quickly became the industry standard for the interactive media and gaming industries.
2012
Audiokinetic introduced the Certified Partner Program for third party plug-in developers in 2012, and launched Izotope, McDSP and AudioEase partner products that same year. This introduced pro audio plug-ins to the gaming/interactive world.
2013
2013 marked the 500th game shipped with Wwise. In 2013, Audiokinetic also announced its Japanese subsidiary Audiokinetic K.K.
2014
In 2014, Audiokinetic launched its Educational Program with online certifications, comprehensive literature, tutorials and sample games for schools, as well as a train-the-trainer program, today known as the Certified Instructors Program. Today, there are more than 200 registered universities and institutions around the world teaching with Wwise.
By 2014, Audiokinetic had established itself as a pioneer in the AR/VR space, and also began exploring the interactive audio technology needs and opportunities of a diversified portfolio for various market segments: Automotive, Location-Based Entertainment, and Simulation.
2015
With the growth of the Mobile game segment, Audiokinetic focused on developing the Chinese market, signing enterprise agreements with most of the major game publishers and developers in China.
2016
2016 marked the 100th AR/VR title shipped with Wwise! On the Automotive front, the first demo car with Wwise integrated was showcased at CES 2016, in partnership with Continental that year! To unite and further empower its growing community, Audiokinetic also launched the Creators Directory in 2016 year, a database dedicated to service providers wanting to list and share services, and developers looking to find talent and resources.
2017
By 2017, 500 titles per year were being shipped with Wwise. 2017 was a big year for Audiokinetic's AR/VR segment and Spatial Audio developments. The Wwise Spatial Audio toolset and the Wwise Audio Lab a game-like 3D environment developed with Unreal Engine 4, for experimenting with spatial audio features were released. Audiokinetic also launched the first iteration of the Wwise Launcher, offering a home for Wwise users to manage their projects and licenses, and to quickly access Wwise resources. Adding to its Education Program, Audiokinetic launched the the Wwise-201 Certification, a certification focused on Interactive Music. And, in the Automotive segment, the first version of Wwise Automotive was launched and showcased during CES 2017, as well as Audiokinetic's open-source contribution to the Automotive Grade Linux (AGL) platform, which included an application-facing audio API and policy management.
2018
2018 marked the 500th AR/VR title shipped with Wwise. As the Wwise community continues to grow, more and more developers are creating plug-ins and integrations for Wwise. Therefore, in keeping with its mission towards empowering the audio community, Audiokinetic launched the Community Partner Program to allow developers to feature and sell their products on the Audiokinetic Store. In Education, Audiokinetic launched its third Wwise Certification, the Wwise-251 Certification, alongside The Wwise Adventure Game, for Unity users. Audiokinetic introduced the new Wwise skin: Dark UI, which was released with 2018.1. And, the first version of Wwise Automotive was officially launched at CES 2018.

