Wwise Automotive® is the most comprehensive, cross-platform, data-driven, interactive audio solution. It features an optimized run-time sound engine and an audio authoring application designed to create and manage customized in-car audio experiences. Its data-driven interactive sound engine, running as a service on embedded targets, increases efficiency with faster iteration cycles and enables OEMs and their providers to create unique sound signatures, customized for each vehicle. Read more...
Wwise Automotive sets new standards for in-car interactive audio by streamlining the workflow related to creating, managing and customizing the sound design, unifying the overall user-experience (HMI), and providing end-users with innovative audio features for entertainment systems (IVI). Its sophisticated authoring, profiling, and real-time editing tools increase productivity and creativity, while saving automotive audio engineers time and money across the automotive audio production pipeline. From concept prototyping and demoing, through to development, production, and aftermarket, Wwise Automotive allows for reuse of design work across platforms, facilitating a unified pipeline with efficient transitions between product stages.
Wwise Automotive features advanced audio mixing to provide seamless integration and prioritization of multiple audio streams for enhanced listening experiences. Its comprehensive sound design capabilities and 3D sound spatialization algorithms allow audio designers to easily create informative auditory cues, which can adapt to the real-time information provided by the embedded systems and enable useful guidance or safety applications with systems such as ADAS and AVAS. Wwise Automotive simplifies deployment of advanced audio DSP technologies and enables an ecosystem of audio technologies through an easily extendable architecture, providing benefits across the entire automotive supply chain.
Comprehensive Automotive Audio Solution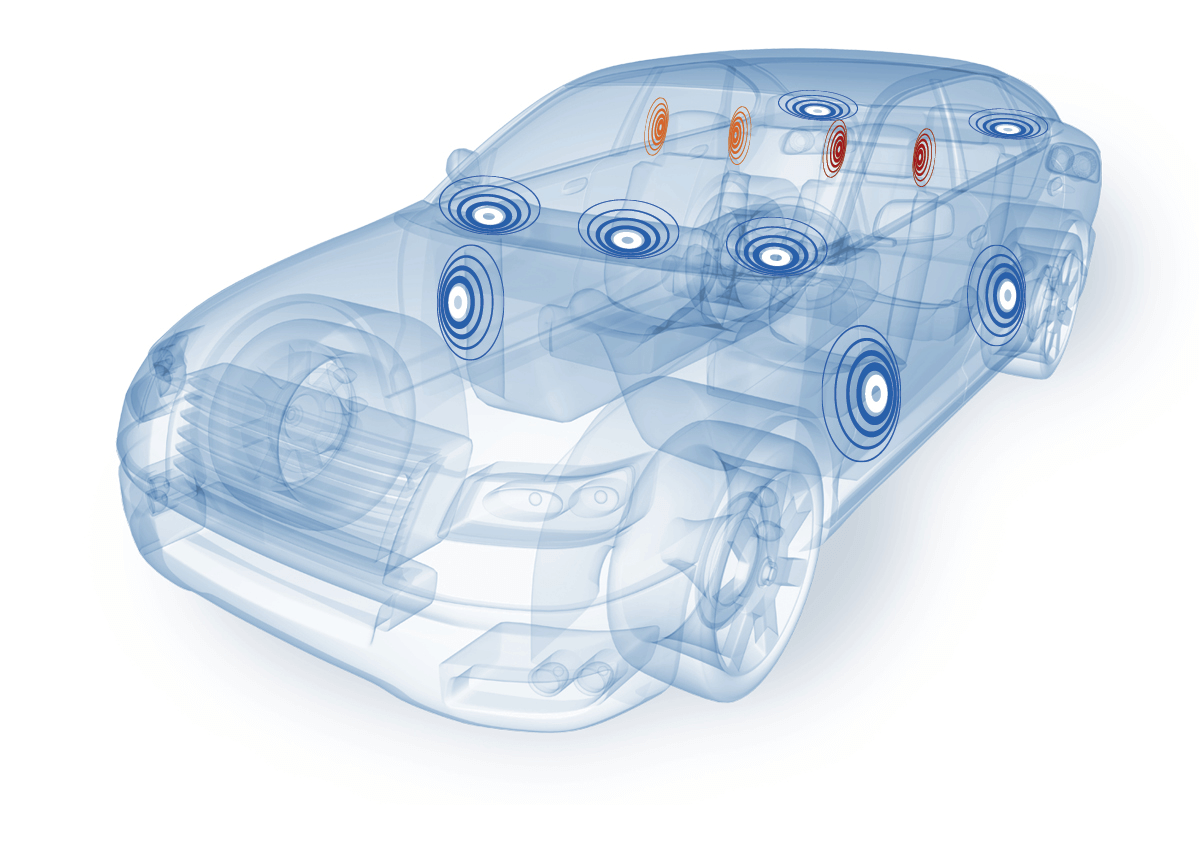 Interactive Sound Generation
Customization
Asset management
Auditory displays (ADAS)
Localization
Audio Sound Management
Powerful mixing and priorities
Multi-zone configurations
3D sound spatialization
Custom loudspeaker configurations
Partner Ecosystem
Internal IP or 3rd-party integration
Easy deployment
Innovative audio DSP portfolio
Key features
Comprehensive interactive sound design for HMI, safety, guidance, and infotainment systems
3D sound spatialization on any loudspeaker setup adapted to automotive acoustics
Plug-in architecture for easy integration of advanced audio signal processing technologies
Advanced audio mixing engine allowing seamless integration of multiple audio streams
Real-time authoring and profiling connected to embedded platform
Key Benefits for the Automotive Audio Ecosystem
Consumer
Enhances and personalizes audio experience
Enables safer driving
Allows for a more immersive and cohesive integration of audio technology
Car manufacturer
Delivers faster time-to-market
Generates aftermarket revenue streams (content and features)
Reduces hardware costs by leveraging existing silicon
Allows audio brand differentiation
IVI provider
Offers complete portfolio of interactive audio technologies
Reduces audio integration requirements
Allows for faster iteration cycles and reduces development costs
Audio IP vendors
Focuses on IP instead of integration
Opens new markets for existing technology
Allows hardware agnostic development and testing
Automotive Solution Overview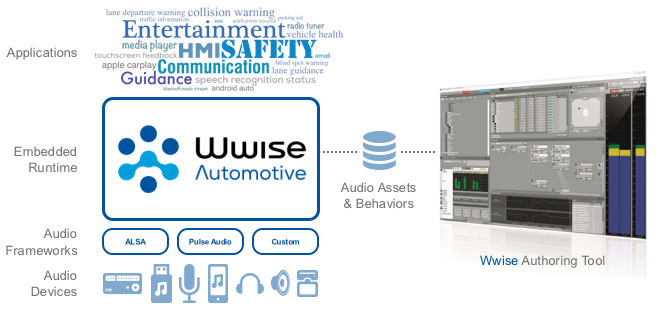 Unified pipeline from concept to aftermarket
Reduce time to market with efficient transitions between product stages, and take control of your audio brand signature.
Concept-Design-Demo
Rapid Innovation
Accelerate prototyping and validation of new audio designs
Share product vision with other teams and clients
Prototype without an embedded platform
Avoid software integration complexities
Reuse design work across platforms with identical results
Development
Increase Productivity
Accelerate development iteration cycles
Reduce team dependencies
Support distributed and parallel development of different applications
Rapidly understand and visualize real-time systems' status
Production
Efficient Scaling
Edit and tune interactive audio designs in context and in real-time
Customize designs easily for local adaptation across different model options and regional variations
Scale performance easily for optimal results on each hardware platform
Aftermath
New Revenue Streams
Centralize management of released audio features across model years
Rapidly deploy new audio content when it becomes available
Easily deploy new audio features and DSP algorithms

Partner Ecosystem
Framework Integrations
Platforms
Services