Wwise Automotive® is the most comprehensive data-driven audio solution. It features an optimized runtime sound engine and an audio authoring application designed to create and manage customized in-car audio experiences on embedded platforms. Wwise Automotive sets new standards for in-car interactive audio by streamlining the workflow related to creating, managing and customizing the sound design, unifying the overall user-experience (HMI), and providing end-users with innovative audio features for entertainment systems (IVI) and safety applications (e.g. ADAS).
Interactive audio tools to design enriched user experience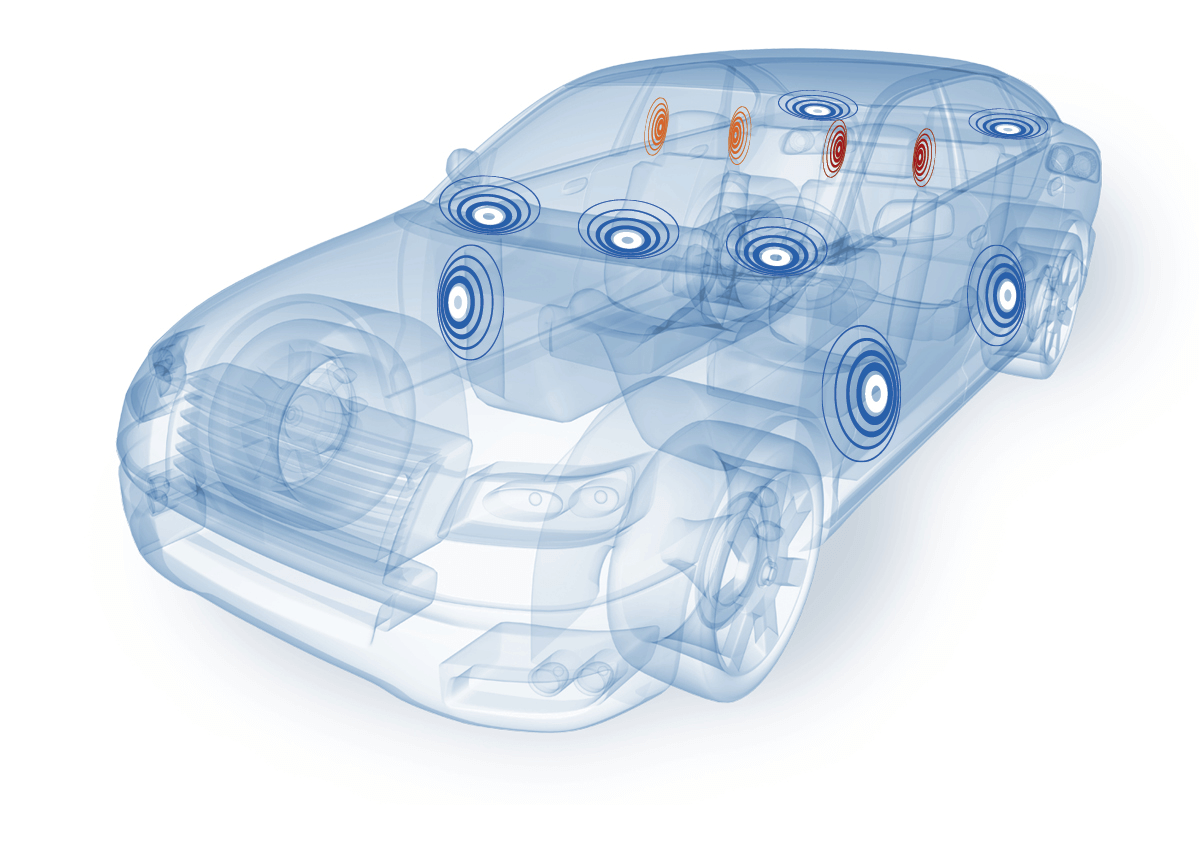 Augment safety and driver awareness through auditory feedback
Generate adaptive and context-aware audio rendering
Customize the audio experience for multiple users
Design highly immersive 3D sound integration
Comprehensive automotive audio solution

Wwise Automotive provides a centralized design environment to control all aspects related to vehicle audio production. It addresses audio requirements around interactive sound generation, connecting sound playback to embedded systems, as well as audio streaming management to orchestrate the different audio streams and priorities in relations with infotainment systems. Within this unified environment, vehicle-specific tunings can be efficiently managed, and powerful audio experiences involving auditory displays and adaptive audio rendering can be easily designed. By providing a unique solution that can be used from prototyping all the way through production, Wwise Automotive significantly reduces the efforts required to bring innovative audio features to production and to streamline the audio development workflow.
Wwise automotive features
Comprehensive interactive sound design
Wwise Automotive data-driven interactive sound engine increases efficiency with faster iteration cycles. It enables automotive sound engineers to easily create informative auditory cues which can adapt to the real-time information provided by the embedded systems, and enable useful guidance or safety applications with systems such as ADAS and AVAS.
Advanced audio mixing and spatialization
Wwise Automotive features advanced audio mixing to provide seamless integration and prioritization of multiple audio streams for enhanced listening experiences. It's sophisticated audio management approach and advanced 3D audio spatialization capabilities can be leveraged for creating highly immersive audio experiences.
Real-time authoring and profiling
Wwise Automotive authoring, profiling, and real-time editing tools, connected to embedded platforms, increase productivity and creativity, while saving automotive audio engineers time and money across the automotive audio production pipeline.
Plug-in architecture
Wwise Automotive simplifies deployment of advanced audio DSP technologies and enables an ecosystem of audio technologies through an easily extendable architecture, providing easy integration of advanced audio signal processing technologies, and benefits across the entire automotive supply chain.
Integrations
Platforms
Wwise Automotive for augmented safety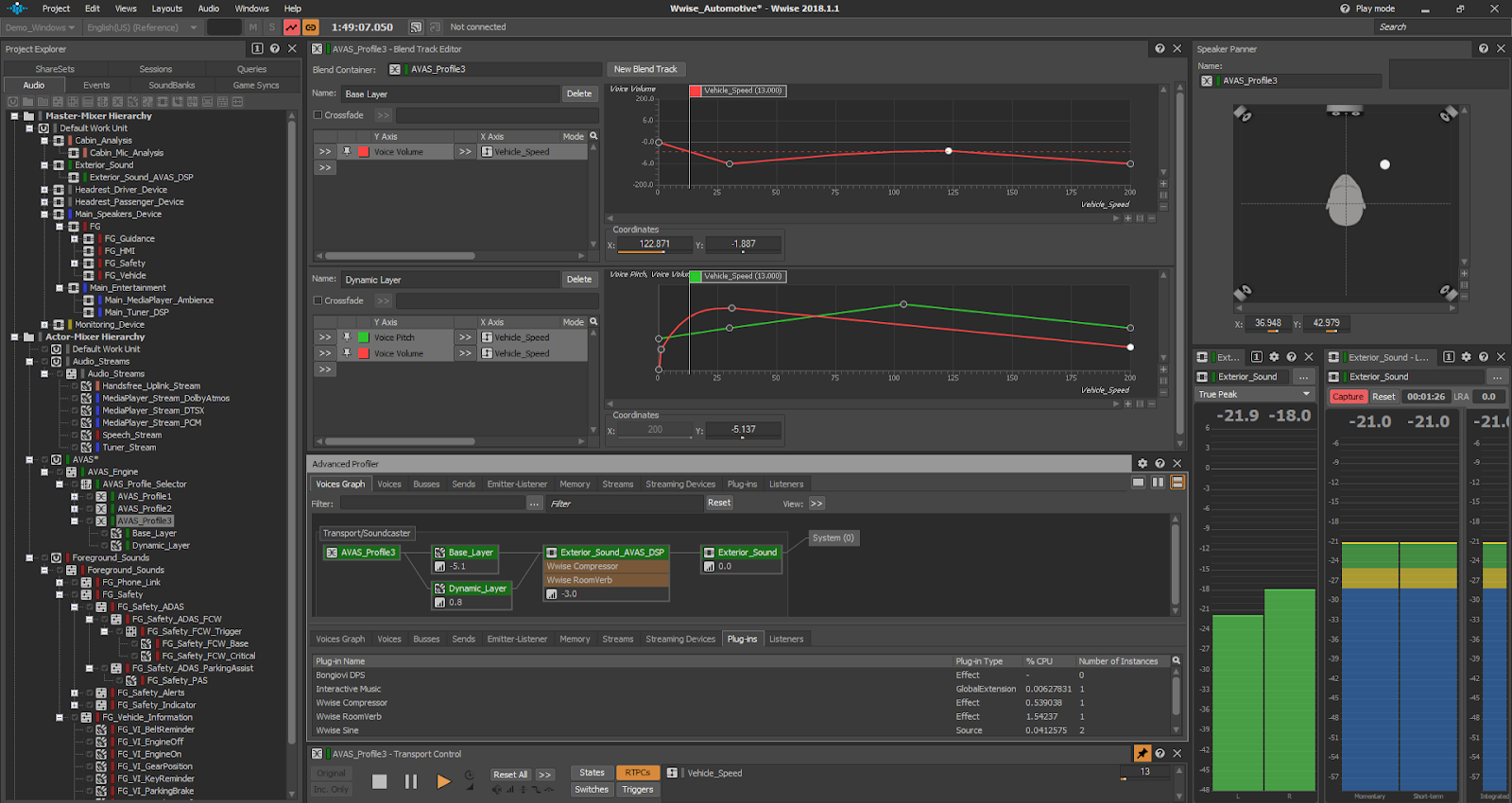 New requirements for automotive safety drive the adoption of multiple sensor systems (e.g. radar, camera, etc.) which feed the car with tremendous amounts of contextual information regarding the car's environment or the driver's condition. The dynamic nature of this information requires the use of innovative interactive audio technology. Wwise Automotive utilizes such contextual information and provides various approaches to using sound for safety and guidance applications like ADAS (e.g. various collision warning systems) and AVAS (external pedestrian warning systems). Wwise Automotive can be easily adapted to provide customized user experiences, while empowering vehicle manufacturers to maintain a unique sound signature.
Wwise Automotive for enhanced comfort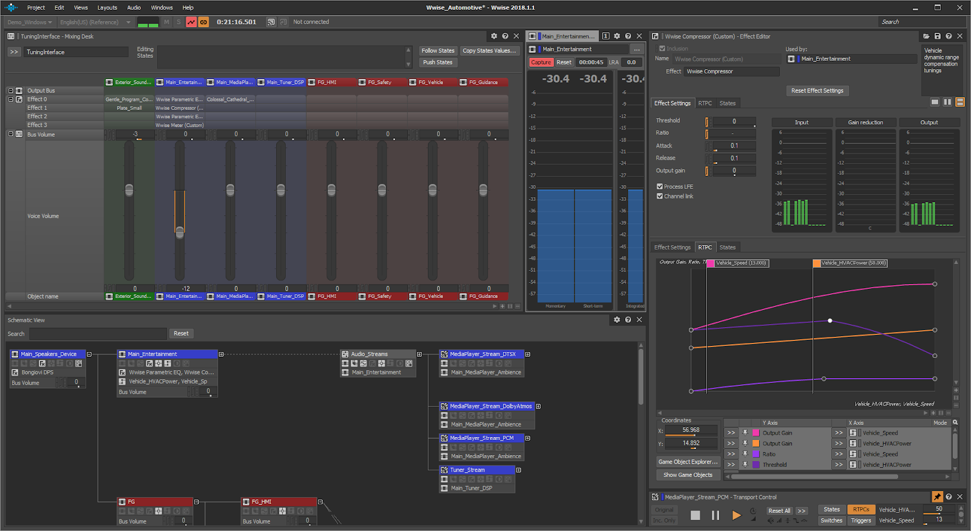 Increased levels of automation and emerging use cases such as shared mobility present new opportunities towards a more adaptive in-car entertainment experience. The development of these advanced audio systems requires new workflows and tools that can support effective tuning customizations based on complex sets of real-time parameters provided by the vehicle network integration (e.g. CAN). Wwise Automotive provides context-aware tunings for applications such as HMI feedback chimes, vehicle noise compensation and automatic level adjustments, as well as advanced audio management capabilities to drastically enhance the audio listening experience.