The Mastering Suite is a cross-platform effect plug-in composed of four modules: a 6-band parametric equalizer, a 4-band compressor, a per-channel gain modifier and a state-of-the-art limiter. Each module can be enabled independently and authored to address specific target platform characteristics such as varying dynamic range, speaker device limited frequency range, and available runtime resources. Built-in ShareSets cover common scenarios such as TV Speakers, Soundbars and Headphones. The Mastering Suite is developed via a collaboration between Audiokinetic and Sony Interactive Entertainment.

This plug-in is free but will require a license to be added to your project. Please click on 'Get it for free' to request a license.
Four essential modules for mastering
6-bands Parametric Equalizer with Low/High pass resonant, Peak, Low/High shelf and Low/High pass one-pole filter types.
4-bands Compressor offering 3 different link modes
Master Volume module offering per-channel gain faders and the ability to solo and mute each independently for easy audition
Limiter with 3 modes providing access to a subset of attack, release and gain parameters
Device tuned dynamic and frequency ranges
Tailor the dynamic and frequency ranges to match the characteristics of the platforms and portable devices
Choose among 5 built-in ShareSets covering most output contexts: Soundbar, Home Cinema TV, Headphones and NightMode
Enjoy fine-grained control over your mix for maximum consistency
Per-channel gain adjustment for up to 7.1.4 channels
Configurable 6-band parametric equalizer with a 4-band compressor allows to pinpoint specific frequency ranges from subtle to surgical adjustments
Control the overall dynamic range of your mix with three adjustable limiting modes: soft, hard and advanced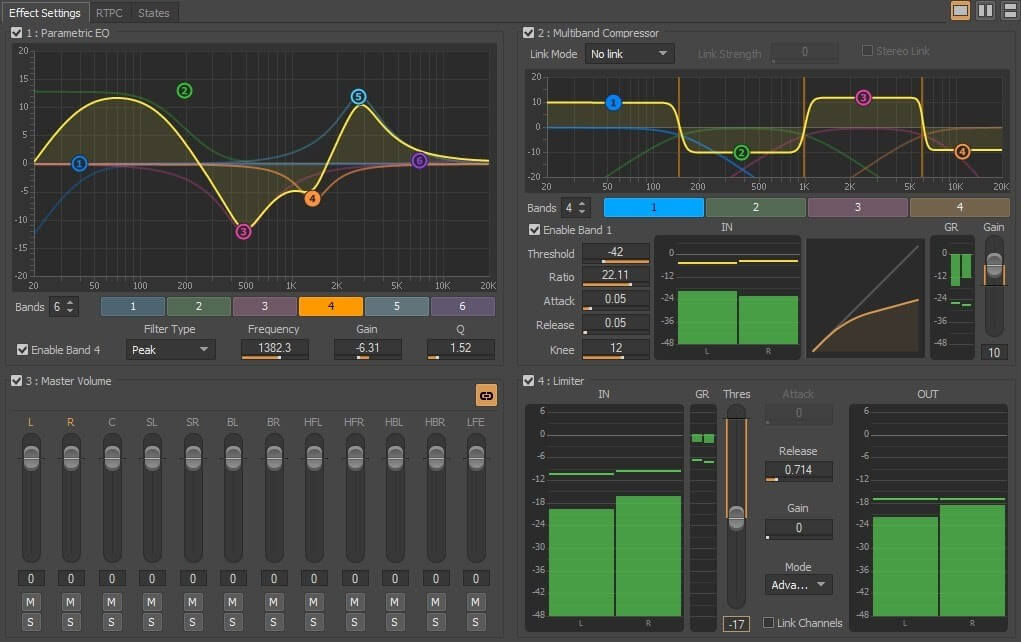 Versions & platforms
This plug-in is compatible with the following Wwise versions: 2019.2 to 2022.1
This plug-in runs on the following platforms.
Get more details