Polyspectral MBC is a multiband compressor plug-in, specifically designed with real-time mastering of a game's mix in mind. Efficient and sonically transparent, the plug-in can be put to many uses. Apply gentle compression to your full mix to imbue it with a fuller, more detailed sound. Use it as an extremely natural-sounding mastering bus limiter, to keep control over dynamics in unpredictable gameplay scenarios. Or quickly adapt the dynamics and frequency content of your mix for different platforms or output scenarios. Whatever the goal, the plug-in's detailed and responsive interface makes it easy to achieve.
Start free evaluation Purchase for my project
Built for Games
The filter and compression algorithms were developed specifically for use in game engines, where CPU cycles are at a premium.
The plug-in introduces negligible latency, crucial for responsive gameplay audio.
For wide coverage of modern game platforms, the signal processing code has been optimized for both Intel and ARM architectures.
Elegant, Responsive Interface
Your game's mix can be monitored with a real-time spectral display.
Parameter adjustment is clear and intuitive, setting a new standard for game audio plug-in user interfaces.
Flexible Bus Layout
The plug-in supports all bus layouts, including Ambisonics.
LFE and Center channels can be excluded from processing if desired.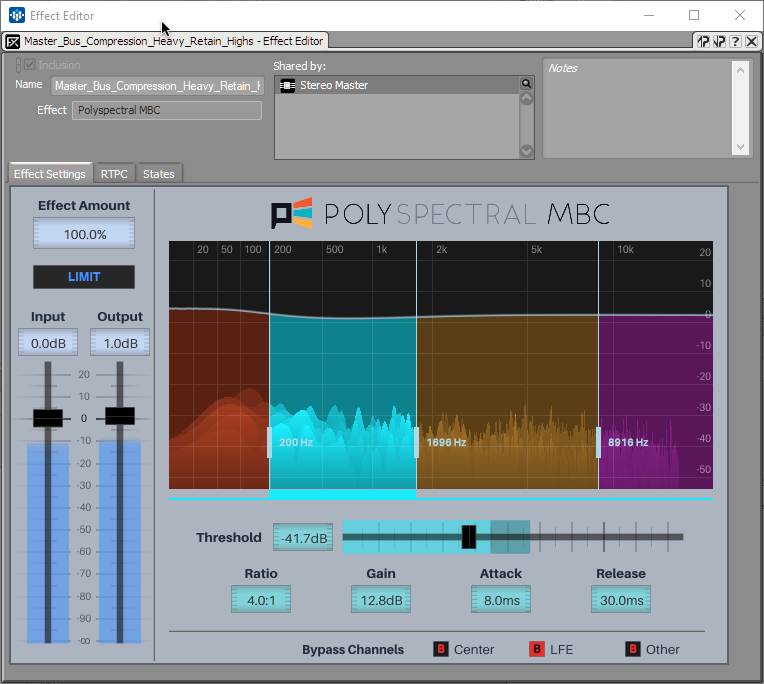 Start free evaluation Purchase for my project
Pricing for games
Indie
Pro
Premium
Platinum
First platform
$100
$300
$1,000
$1,000
Extra Platforms (each)
$50
$150
$300
$300
See full price chart
Versions & platforms
This plug-in is compatible with the following Wwise versions: 2017.2.0 and later
This plug-in runs on the following platforms.