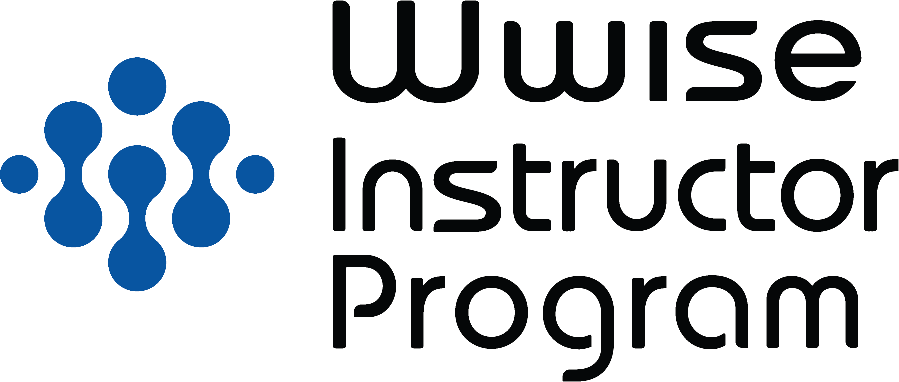 Certified Wwise Instructors are endorsed by Audiokinetic to teach Wwise in a classroom environment. Interactive audio instructors seeking to become Certified Wwise Instructors must attend and pass the Wwise-135 Certification program. This is a 4-day program focused on instructional techniques and a deeper understanding of Wwise as it relates to the Wwise–101 learning material.
Certified Wwise Instructors can register to get listed on the Creators Directory where companies seeking training for their staff can find them, and are authorized to use approved Certified Wwise Instructor branding for self-promotional purposes on business cards, social media accounts, and websites.
Schools that hire a Certified Wwise Instructor can also register on the Creators Directory as a Certified School.
Students who study with Certified Wwise Instructors or at Certified Schools can acquire the Wwise-110 Certification after they've passed both the Wwise-101 test and the Wwise-110 practical exam. The Wwise-110 practical exam is a timed hands-on practical test that demonstrates a students ability to build a Wwise project that meets specific objectives. The Wwise-110 practical exam may only be administered in person by a Certified Wwise Instructor.
Audiokinetic offers the Wwise-135 Certification program via video conference, at various times throughout the year.
Become a certified Wwise instructor
Please note that you must first complete the Wwise-101 Certification in order to be eligible for the Wwise-135 Certification program.