AudioWind is a synthesizer dedicated to creating wind sounds and ambiance sounds. The synthesizer is based on procedural audio technology which allows full control of dynamic sound evolution in real-time. It comes with 100 carefully crafted presets for efficient sound scene creation.
Start free evaluation Purchase for my project
The wind sound is modeled by four modules
Background synthesizes the immersive wind sounds.
Whistling synthesizes small whoosh sounds.
Gusts simulated the wind interacting with big objects.
Squalls simulates the sudden increase of sound pressure caused by a strong air flow, and their global behaviours are governed by the global wind speed. All the parameters are RTPC compatible that gives the full power for real-time sound shaping.
Instant creation
Simply load the plugin and select the preset you need - the job is almost done. The factory presets cover various scenarios from desert wind to seashore breeze, all available within a simple click.
Total control
With all the parameters compatible to RTPC, you get the total control of the sound.
Room tone
AudioWind is not only great for creating wind sounds but is also perfect for filling the ambiance liks room tone.
Flexibility and compatibility
Thanks to its procedural nature, AudioWind is flexible for painless project change and adaptation. It also allows audio integration at an early stage and fast porting to various platforms.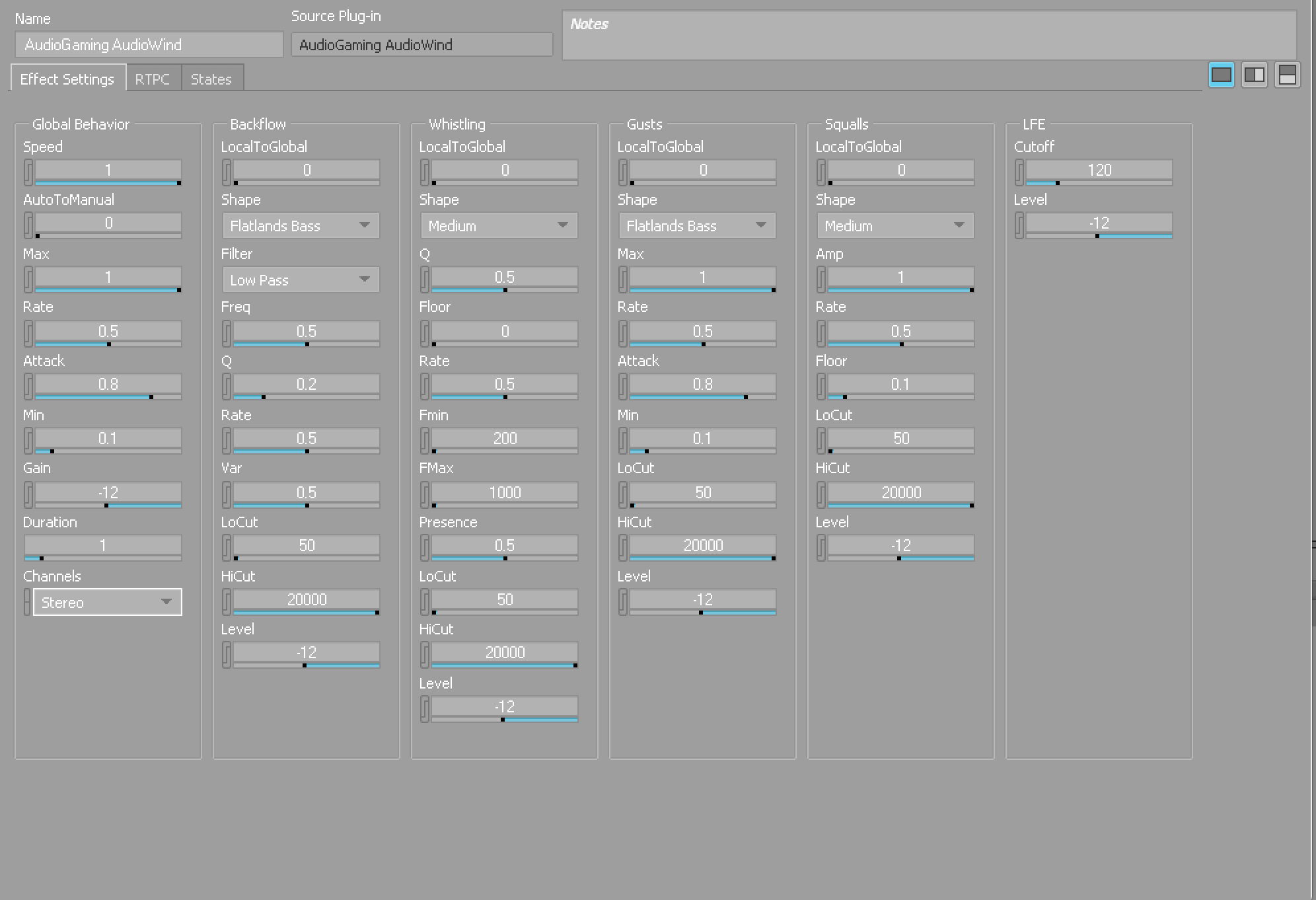 Start free evaluation Purchase for my project
Pricing for games
First platform
Extra Platforms (each)
Premium (Level C)
$1,000
$1,000
See full price chart
Versions & platforms
This plug-in is compatible with the following Wwise versions: 2018.1.0 and later
This plug-in runs on the following platforms.